As the new year comes closer and closer – and shops begin offering generous holiday discounts on the best 17 inch laptops – you might want to look for a solid device to start 2017 in style. And if you're a movie enthusiast, passionate gamer, or simply prefer a wide clear picture, you're probably looking for the best 17 inch laptops out there.
There are plenty of reasons why people choose 17 inch laptops over their sleeker, more portable counterparts: the screen is more eye-friendly than that of smaller laptops, the keyboard is larger and thus more easily accessible, and the components are usually more easily upgradable, due to the large chassis these laptops are built on.
So if you're looking for a great desktop replacement, you've come to the right place. We've selected the 10 best 17 inch laptops for 2017, so you can choose the one that best fits your preferences.
The Specs
Display Resolution
If you're looking for high-definition displays, 17 inch laptops are your best choice. Nearly all of them offer Full HD screen resolutions (1,920 X 1,080), so high picture quality shouldn't be a problem.
Though most come with touch-friendly operating systems such as Windows 10 or 8, almost none have touch screens. While this is ok with most people, touch enthusiasts – if there is any such category – might want to look for models with shorter diagonals.
CPU
Depending on your needs, you might want a budget Intel i3 processor or a powerful 6th generation i7. Most of the laptops on our list come with Intel i5 or i7, which should be enough for most gaming and programming purposes.
Graphic Card
You've got plenty of options to choose from, again, depending on what you're going to use your laptop for. While most of the models on our list feature a dedicated Nvidia graphics card of at least 2GB, there are some pretty solid AMD chips on the market, too.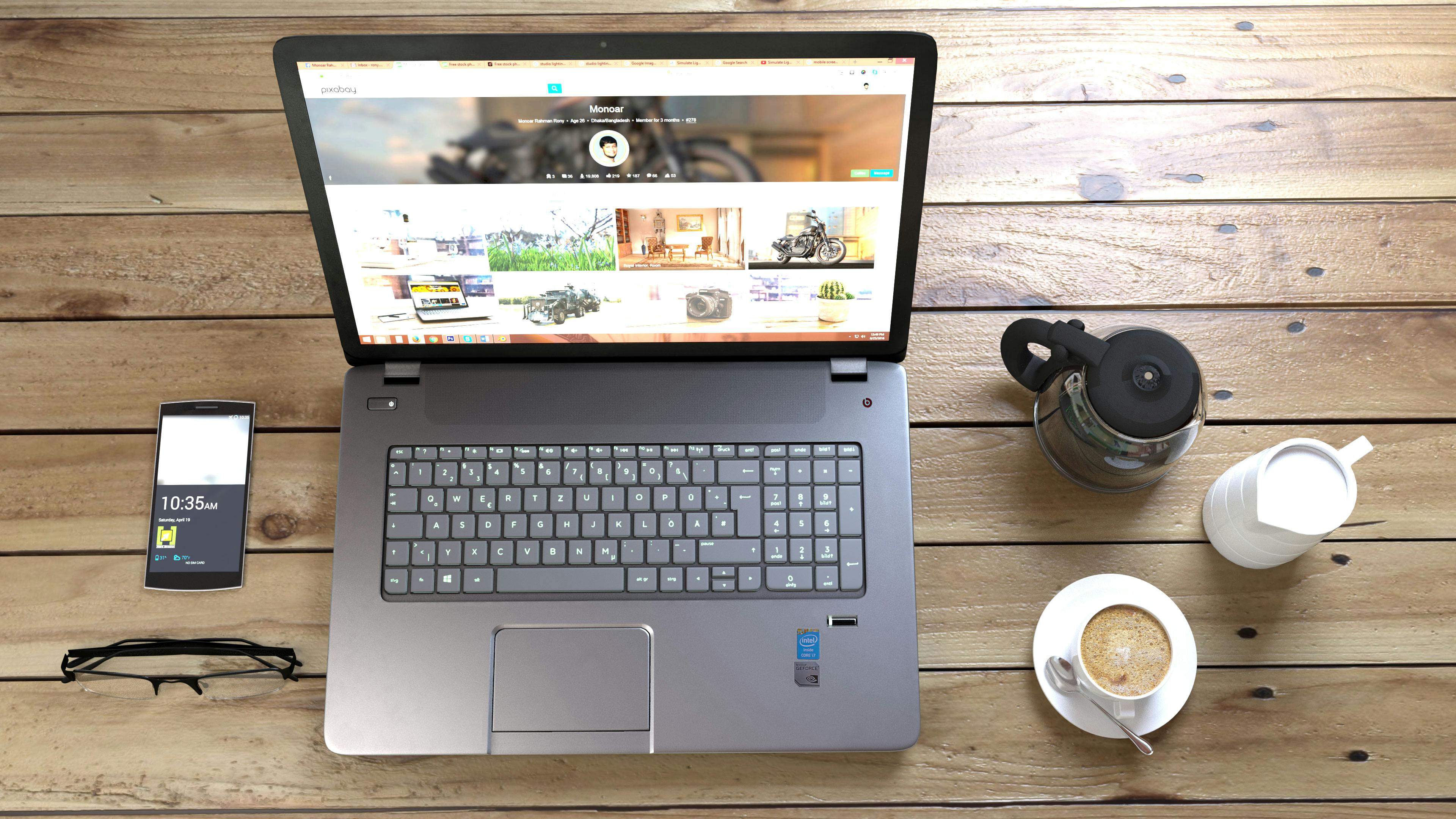 RAM
8GB should be plenty for most purposes, from day-to-day office multitasking to moderate gaming. If you're planning to do some hard multitasking, or if you need to run demanding programs, you might want to look for larger RAMS, such as 12 or 16 GB. Anything more than that is more for future-proofing reasons than anything else.
Storage
For most purposes, you're probably not going to need more than 1TB of HDD. To supplement that, especially if you need to load large amounts of data rapidly – for instance, if you're a programmer, an architect, or a sound engineer – you might want to invest in models that feature additional SSD memory.
10 Best 17 Inch Laptops In 2017
Best 17 Inch Laptops Under $500
At a pinch over $400, this Lenovo model features some specs that are just good enough for most home and office purposes, and even allows for some casual gaming once in a while.
The AMD Quad-Core A8-6410 2.0GHz processor is coupled with an AMD Radeon R5 graphics card won't support massive gaming or excessive heavy use. However, they'll do for most day to day tasks.
Loading ...
Though the 1TB HDD matches models twice as expensive, the RAM is only 4GB, which might be a bit less than today's standards. That aside, considering the overall price, it's still a relatively solid laptop.
9
HP Pavilion Notebook – 17-G119DX
This HP model gives you plenty of value for the money.
It features an Intel Dual Core i5 1.7 GHz processor, which should give you enough power to go through your daily routine without any problems whatsoever. The 4GB RAM is, again, a bit limited, but it can be upgraded.
With no dedicated graphics card, however, this laptop might not be suited for heavy gaming.
Loading ...
Overall, this laptop is a great deal for the money – at less than $450 you get more than decent specs for office and personal use.
This Asus model features great specs for a really great price, making it one of the most attractive 17-inch laptops in 2017.
The 2.2 GHz Intel Core i5 is great for all purposes, and the 8GB RAM can run plenty of applications at the same time. This device is great for heavy office use.
The graphics card is integrated, but it's still got plenty of rendering power, unless you're going to use it for large, demanding games.
Loading ...
At just under $500, this laptop does its job better than even pricier models.
Best 17 Inch Laptops – $500 – $1000
This Dell model features decent specs for the relatively low cost, making it one of the most competitive laptops in the $600 – 700 price range.
The 6th generation Intel Core i5-6200U 2.3 GHz processor can be boosted up to 2.8 GHz, which is plenty for most daily tasks. The 8GB RAM should be enough for most users, too, including casual gamers. The 1TB HDD give you lots of storage space for all important files and software.
Loading ...
The graphics card is still integrated, which means you won't be able to play extremely demanding games. However, the Intel HD Graphics 520 should allow you to enjoy most classic titles, if that's what you're into.
This Lenovo model is great for nearly everything you have in mind – and at just under $800, it's still relatively affordable for most budgets.
Loading ...
The Intel Core i7-5500U 2.4 GHz Processor can take whatever you throw at it, and the 8GB RAM should be enough for most purposes, unless you're planning some heavy multitasking. The dedicated NVIDIA GeForce GT840M 2GB graphics card can play most games at medium-to-high settings, which is great news for occasional gamers.
This Asus model is really impressive in terms of specs, though there are similarly priced models with shorter screen diagonal that actually surpass its specs.
However, considering the superb matte Full HD display, this really is one of the best 17 inch laptops currently available.
Loading ...
The 6th generation Intel Core i7-6700HQ clocking in at 2.6GHz is great in and of itself. As a bonus, it comes paired with a generous 16GB RAM and a NVIDIA GeForce GTX 960M 2GB VRAM graphic card. This great combination makes this laptop suitable for both office and gaming purposes.
4
Hp Notebook Laptop 17 – x062sa
This gem features super specs and a brilliant Full HD touch screen, making it one of the best 17-inch laptops on our list.
It sports a 7th Generation Intel Core i7-7500U dual-core processor, with an impressive 2.7 GHz with a possible turbo boost of up to 3.5 GHz. The AMD Radeon™ R7 M440 4G  dedicated graphics card is great for most modern games, and the 16 GB RAM should be sufficient for all purposes.
Loading ...
Add to that a 2TB HDD and a 3-cell battery that can last up to 7 hours – pretty impressive, considering that most 17 inch laptops only last for about 4 hours – and you've got yourself one of the best machines currently on the market.
Best 17 Inch Laptops – More Than $1000
At just a tad over $1000, this Toshiba laptop is a great fit for most users, regardless of what you're going to use it for.
The Intel Quad Core i7 2.6 GHz processor features a turbo boost of up to 3.5 GHz, making it great for all purposes. The 16 GB RAM coupled with the potent AMD Radeon R9 M365X dedicated graphics card completes this laptop's power specs.
Loading ...
Like most laptops in this price range – but unlike cheaper models – it features a brilliant Full HD display, making it ideal for playing demanding games or watching movies in amazing quality.
This laptop really is a beast of its own, with some of the most impressive specs you're going to find in this price range (just north of $1,600).
The Intel Core i7 quad-core processor is similar to that of the HP Notebook17, with 2.6 – 3.5 GHz. The real value of this machine, however, comes when you look at its RAM and graphics card.
Loading ...
The generous 32 GB RAM is more than you'll ever need, and the NVIDIA Geforce GTX 1060 6GB graphics card can play even the most demanding games out there. Add to that the 2TB HDD and the 500GB SSD, and you've got yourself a really mean machine, capable of taking even the hardest of beatings without as much as a hiccup.
1
ASUS ROG G752VS OC Edition
If you're willing to pay a serious buck for some serious performance, this Asus model has everything you could possibly wish for – and more.
There's no end to what the overclocked Intel Core i7-6820HK 2.7 GHz processor can do, and the dedicated NVIDIA GTX 1070 8GB graphics card will please even the most pretentious gamer. The 64 GB RAM means you'll never get to use it all, and the 512 GB SSD gives you lightning-fast loading time for the most demanding programs.
Loading ...
Obviously the best 17 inch laptop in 2017 on our list, this is also the most expensive. It ultimately all comes down to whether you're willing to pay three times more than you would for a medium-range model to get all this impressive performance.
Conclusion
We hope you've enjoyed our selection of the 10 best 17-inch laptops in 2017 – we've covered everything from the cheap, but robust Lenovo G-70 to the unbelievably high-tech Asus G752VS. It's now up to you which model you're going to choose. All you have to do is make sure you pick one that responds well to your needs, so you can enjoy a smooth, fulfilling IT experience.
Credits: